Best, brightest college students beaten by UCLA's
By David Landau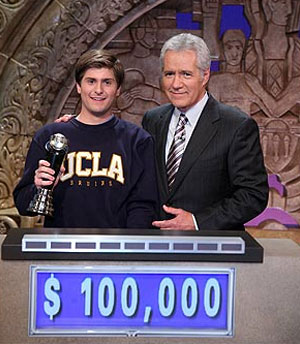 Copyright © Photo courtesy of Jeopardy!
In USC's brand-new, self-proclaimed sports Mecca, amid thousands of screaming Trojan fans, one Bruin carried the day for UCLA. Cliff Galiher, a sophomore pre-history major, mopped the floor with the best and brightest college students from across the nation, including one from USC, winning $100,000 in the 2007 "Jeopardy! College Championship."
"I thought it was a huge cosmic joke when I found out I'd be playing for the championship at [the USC Galen Center]. And after the show's coordinators warned me, specifically, about potentially hostile crowd reactions, I was more than a little apprehensive. It didn't help to have a replica of Tommy Trojan staring right at me through every match. But it was still a great experience, and winning there was icing on the cake," said Galiher.
To qualify, he had to out-perform 1,000 fellow Bruins in Ackerman Grand Ballroom, answering a pre-test, an exam-length follow-up test and a personality test, and finally prove his merit in a simulated episode. Obviously, he was the right pick for UCLA representative, eventually walking away with the title.
How did he do it? Like a good Bruin, he studied: "I only found out I was chosen for the show about ten days before the episodes were taped, so I had to take a crash course in everything! My biggest resource was www.j-archive.com, which displays clues from past episodes, and which taught me a lot about everything from common categories to wagering strategies for the Daily Doubles and Final Jeopardy."
"It all took up a lot of my time, but it definitely got me into fighting shape!" he added.
Winning took a lot more than just study, though. Says Galiher, "There's a world of difference between playing onstage and playing at home. At home, I always shout out the answers before the end of the question. One thing I had to get used to was waiting for the end of the question, and definitely being quick on the signaling device."
All of his studying definitely paid off, though — literally — landing him $100,000, a trophy, bragging rights and the begrudging admiration of the Trojans in attendance to boot. "The [members of the crowd] were ... good sports. Even some USC grads and students came up and congratulated me," said Galiher.