Practices This Fall 2011: TBD.

What's New for 2011-2012 (Including Upcoming Tournaments).

2007 College Jeopardy Championship.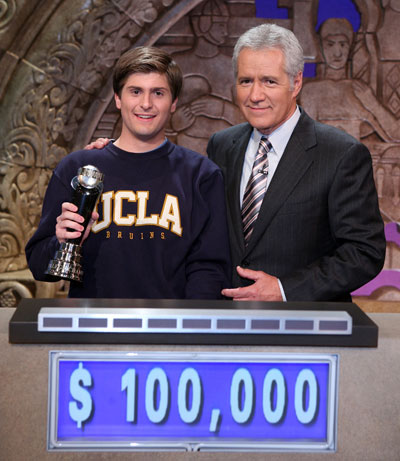 UCLA College Bowl's very own Cliff Galiher wins the 2007 Jeopardy! College Championship, taking home $100,000. Hear how he did it here.
Press release from Jeopardy! and local copy.
Article from Daily Bruin and local copy.
Other coverage include: Cliff being called "A Beautiful Mind" by Sports Illustrated (local), Jeopardy being referred to as an NCAA sport as well as Jeopardus Awesomenus by Daily Bruin (local), UCLA's best and brightest compared against USC in UCLA Magazine (local), hometown props from Half Moon Bay Review (local), and the obligatory listing found on wikipedia.
(Photo by Jeopardy! Productions.)

2006 CBI National Champions.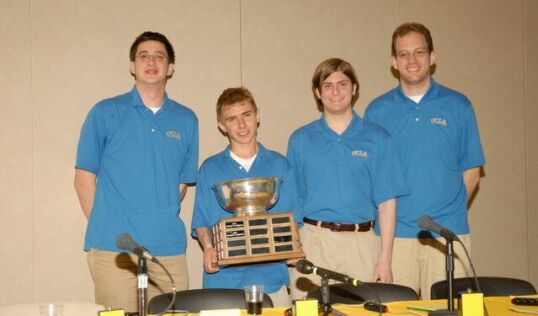 Left to right: Dwight Wynne, Charles Meigs, Cliff Galiher, Jay Turetzky.
Press release from CBI and local copy.
Recognition from ASUCLA and local copy.
(Photo by College Bowl Inc.)

2004 NAQT Div II National Champions.

Photo found here: Charles Meigs, Dwight Wynne, Matthew Sherman.
Press release from NAQT and local copy.

Meeting Schedules.

Usually Monday and Thursday evenings at Ackerman Union (also see below). Come join us no matter what your level of experience or affiliation; we'll make you feel right at home. Everyone is welcomed, including high schoolers, players from other schools, and alumni.

2008 winter spring complete schedules.
2007 winter spring fall complete schedules.
2006 flyer handout | winter spring summer fall complete schedules.
2005 flyer.

What We Do.

Quiz bowl is an academic competition format pitting one team of up to four players against another team of up to four players. While a question describing a certain event, person, phenomenon, or entity is being read, the players individually compete to see who can buzz in first with the correct answer to the tossup. Teams can then work together to answer bonus questions when a member of their team gets the tossup right.

Quiz bowl is similar to formats like academic decathlon, academic olympiad, knowledge master, and the TV show Jeopardy! in that it rewards knowledge to those most prepared to demonstrate it. Many of our past and present team members have utilized this knowledge to win large sums of money in game shows like Jeopardy! and Who Wants to be a Millionaire?.

Although quiz bowl generally cover areas that are academic in nature (such as literature, history, sciences like biology and chemistry and physics, fine arts, religion, mythology, philosophy, geography, social sciences like psychology and economics and linguistics, and current events), we also play on questions geared towards popular culture, such as music, movies, sports, and general knowledge. We travel to places like Berkeley, Chicago, New Orleans, St. Louis, and Nashville, and raise money for our trips by hosting tournaments.
See also our info-packed handout for new group members and a summary.

Useful Info.

Any Other Questions?

Come to one of our practices, or contact one of us.